Ilana Solomon, ScM, MA, CGC
Manager, Precision Medicine Program, Genetic Counselor
City of Hope
Ilana Solomon, ScM, MA, CGC is a board-certified licensed genetic counselor focusing in cancer risk assessment. She graduated from the Johns Hopkins/ National Human Genome Research Institute Genetic Counseling Training Program in January 2013. Previously trained as an anthropologist, she also holds a masters degree in physical anthropology from New York University and a bachelors degree in anthropology from Binghamton University. Ilana joined the City of Hope Division of Clinical Cancer Genomics in 2013. Her past research focuses on the psychosocial impact of receiving Variants of Unknown Significance (VUS). She currently specializes in hereditary gastrointestinal syndromes focusing on hereditary gastric cancer. Ilana also has interests in genomics education and genetic counseling research including patient-centered care, risk communication and the concept of uncertainty in healthcare. She is an active member of the National Society of Genetic Counselors (NSGC) and is Co-Chair for the Research sub-committee of the NSGC Cancer Special Interest Group.
$i++ ?>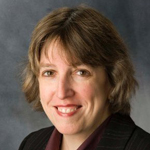 Karen Hurley, PhD
Licensed Clinical Psychologist
Cleveland Clinic
Karen E. Hurley, Ph.D. is a licensed clinical psychologist at the Cleveland Clinic specializing in hereditary cancer risk and a Clinical Member of the Cancer Prevention, Control and Population Research Program at the Case Comprehensive Cancer Center. She received her A.B. in psychology from Bryn Mawr College in 1983, and her Ph.D. in clinical psychology from Temple University in 1998. Before joining the Cleveland Clinic staff, she spent eight years on faculty at Memorial Sloan-Kettering Cancer Center conducting NCI-funded research on patient decision-making about cancer genetic risk management and other psychosocial issues relevant to high risk patients. She has provided psychotherapy and consultation to nearly 500 individuals, families and couples with a variety of inherited cancer susceptibility syndromes, including breast/ovarian (BRCA1/2), Lynch syndrome, familial adenomatous polyposis (FAP), Li-Fraumeni syndrome, and diffuse gastric cancer syndrome (CDH1). Dr. Hurley has conducted numerous professional education seminars and patient workshops for organizations such as American Psycho-Oncology Society, the National Society of Genetic Counselors, and FORCE (Facing Our Risk of Cancer Empowered). She is a past or current member of several national advisory boards for high risk individuals, including FORCE, Bright Pink, Sharsheret, The Cancer Support Community's Breast & Gastric Cancer Registries, the City of Hope National Medical Center's Cancer Genetics Career Development Program, and the National Cancer Institute's PDQ Cancer Genetics Editorial Advisory Board. In 2014 she received the Spirit of Empowerment-Individual Commitment award at the 8th Annual FORCE conference, in recognition of her work on behalf of the hereditary cancer community.
$i++ ?>
Components visible upon registration.