Judy Garber, MD, MPH
Director, Center for Cancer Genetics and Prevention
Dr. Garber is the Chief of the Division of Cancer Genetics and Prevention at Dana-Farber Cancer Institute and a Professor of Medicine at Harvard Medical School. Dr. Garber conducts research in clinical cancer genetics, with a special focus in the genetics of breast cancer. She has played a major role in the development of national guidelines in cancer genetics. She is also a leader in research into the characteristics and treatment of triple negative or basal-like breast cancer, the most common form in women with BRCA1 mutations. Her translational research focuses on the evaluation of novel agents targeting DNA repair defects in breast cancer, including PARP inhibitors for treatment and prevention of breast cancer and other BRCA-associated cancers.
In 2011-2012, Dr. Garber was the President of American Association for Cancer Research (AACR), the largest organization of cancer researchers in the world. She is a member of the National Cancer Advisory Board and was elected into the National Academy of Medicine in 2013. She also serves as the Co-Scientific Director of the Breast Cancer Research Foundation and past chair of the Breast Cancer Research Foundation Scientific Advisory Board. She is an ASCO Statesman and a Fellow of the AACR Academy.
$i++ ?>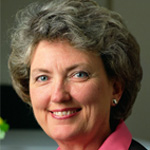 Carol Fabian, MD
Director, Breast Cancer Prevention & Survivorship Centers
Dr. Fabian is an internationally recognized leader in biomarker based risk and early prevention trials for breast cancer. She directs the Breast Cancer Prevention and Survivorship Research Center at the University of Kansas Cancer Center and has previously served as chair of the Prevention and Survivorship Program and Associate Director of Clinical Research in the NCI designated Cancer Center.
She is the Principle Investigator for a number of recently completed breast cancer prevention trials funded by the National Cancer Institute, Komen for the Cure, or the Breast Cancer Research Foundation which have focused on potential new prevention interventions which will not induce menopausal symptoms or might even relieve symptoms. These include letrozole for postmenopausal women taking hormone replacement therapy, Duavee (bazedoxifene and conjugated estrogen) for perimenopausal women with hot flashes, Omega-3 fatty acids, a flaxseed derivative for premenopausal women and diet and exercise trials.
She has served as chair of ASCOs Prevention Committee, co-chair of the Survivorship Committee of SWOG, and has served on numerous scientific advisory boards for the National Cancer Institute and the Susan G. Komen Foundation, and on ASCO and AACR scientific program committees. She co-chaired the ASCO Breast Cancer Prevention update released in 2019.
$i++ ?>
Thomas Slavin, MD, FACMG, DABMD
Vice President of Medical Affairs for Oncology
Dr. Slavin is Senior VicePresident of Medical Affairs for Oncology at Myriad Genetics. He is aphysician-scientist, triple-board-certified in clinical genetics, moleculardiagnostics and pediatrics. Most recently, he served as assistantprofessor in the departments of Medical Oncology & Therapeutics Researchand Population Sciences at City of Hope National Medical Center. Dr. Slavingraduated medical school with Alpha-Omega-Alpha-honors from the University ofSouth Florida. He completed his residency programs at Case Western Reserve inCleveland, Ohio; this training included a postdoctoral research year ingenetic epidemiology. He has also completed graduate course work towards aMasters degree in clinical research through the University of SouthernCalifornia. He is an active member of the American Association of CancerResearch, the American Society of Clinical Oncology (ASCO), the AmericanSociety of Human Genetics, the Collaborative Group of the Americas on InheritedColorectal Cancer, and is a fellow of the American College of Medical Geneticsand Genomics. He has served on National Comprehensive Cancer Network (NCCN)committees for both the genetics of and screening for colorectal cancer. He hasserved on three ClinGen expert working group committees for variantclassification of breast, gastrointestinal and ovarian cancer predispositiongenes. Focused on expanding genetics education for cancer care providers,Dr. Slavin has helped shape both ASCO University as well as City of Hope'shereditary genomics training program. He is a well-published researcher in thefield of medical genetics, including over 60 journal articles, multiple bookchapters, and numerous presentations at national and international medicalmeetings. He has been involved in many national cancer research grants, and wasa 2018 National Institutes of Health (NIH) K08-career development grantawardee.

$i++ ?>
Components visible upon registration.