2017 - November 3rd -"Gastric Adenocarcinoma and Proximal Polyposis of the Stomach (GAPPS)"
Register

Non-Member - $10
COH Staff - Free!
IC Faculty - Free!
IC Student - Free!
CCGCOP - Free!
CCGCRN - Free!
CCGCRN-Latin America - Free!
KGI 2019 - Free!
"Gastric Adenocarcinoma and Proximal Polyposis of the Stomach (GAPPS)" presented on 11/3/17 by Grace-Ann Fasaye, ScM, CGC during City of Hope's Division of Clinical Cancer Genomics Community of Practice Weekly Topics in Cancer Genetics Research (TICGR).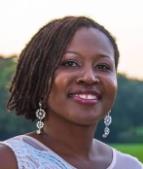 Grace-Ann Fasaye, GC
Genetic Counselor
Grace-Ann Fasaye is a genetic counselor for the Genetics Branch at the National Cancer Institute (NCI). Prior to joining the NCI, Grace-Ann was a program manager or research coordinator for genetic counseling projects at various community and academic hospitals in the Washington, DC metropolitan area. In her current role at the NCI, she provides genetic counseling to patients with a personal and/or family history of rare tumors including GIST, diffuse gastric cancer, and mesothelioma. She also serves as a rotation supervisor to genetic counseling graduate students and provides genomics training to experienced health care professionals. Grace-Ann received her master's degree from the joint Johns Hopkins School of Public Health and National Human Genome Research Institute's Genetic Counseling Training Program in 2000 and is an alumna of the 2010 City of Hope Intensive Course in Cancer Risk Assessment.
$i++ ?>
Components visible upon registration.